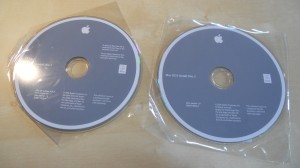 I was cleaning up my home office recently and I found a couple of installation disks for Apple's OS X Tiger operating system, 10.4.7. They must have come with the Macbook Pro I bought back in early 2006, and since that time I've upgraded  several times, to 10.5 (Leopard), 10.6 (Snow Leopard), 10.7 (Lion), and in the not too distant future I'm sure I'll make the move to 10.8 (Mountain Lion).
Because I have absolutely no need to keep the OSX Tiger disks, I figured I'd sell them on eBay. After all, they might be of some use to someone with an older Mac who wants to stay on that older version of the OS, who possibly has lost or damaged their original disks. I listed them online for $1, eBay's minimum bid, and hoped that they  might be of some benefit to someone, somewhere.
Less than 24 hours after listing them, I get an email from eBay telling me they had to pull the ad after getting a takedown notice from the Business Software Alliance. "Your item was removed because of a request we received from BSA asking us to remove the item". They say that "software offered for sale is in violation of an enforceable license agreement, which constitutes a copyright infringement".

WTF? Are they serious? This is an operating system that is nearly 5 generations old and is no longer for sale.  The only people interested in this software would already own the Mac hardware to run it on, which means they did, at least at one point, own their own copy of the disks anyway.
The email suggested I should write to the BSA if I had further questions.  So I did…
Dear BSA,

I got the following email from eBay after I listed a set of Mac OSX 10.4.7 installation disks…

You guys cannot be serious?

This is a legacy operating system, no longer supported by Apple. How can it possibly be seen as a copyright infringement?  What damages can the BSA possibly claim?  This is not taking sales of new software away from Apple, nor depriving Apple of income.  The disks are sitting in my drawer gathering dust, and I listed them for the absolute minimum price allowed ($1) in the hope that someone who needs them, running an older Mac, might benefit from them.

Surely you understand that these disks are of no benefit to anyone who does not already own the hardware capable of running the software?  By implication, they have already bought – and probably subsequently lost – the disks that came with their original system.  All I'm doing is offering them to chance to get a genuine copy of the disks they have already bought.

Unlike the Windows operating system, Mac OSX cannot be bought as a standalone product, and so whoever has hardware capable of running OSX 10.4.7 has already bought the software, since it came with their hardware! If those original disks have been damaged or lost, the disks I was offering on eBay will simply allow them to have a genuine replacement for something they have already paid for.

Please reply to this email and explain the rationale behind your request to pull these disks from sale on eBay, and also please explain to me – realistically – what damages are being done and to whom.

I await your reply.
Those who know me well would know that I usually do my best to do the right thing regarding copyright, but this seems just stupid to me. Copyright is supposed to protect people from loss of income due to the theft of intellectual property. I fail to see how this takedown notice does that. Thanks to the nazis at the BSA, somebody who might get some benefit from owning the disks for this 6 year old operating system will no longer be able to, and I'll be deprived of a whole dollar.
Meanwhile Apple still have over $100,000,000,000 in the bank.
Victimless crime? Copyright gone mad? Or am I just being unreasonable?

Nazis, Not Pirates by Chris Betcher is licensed under a Creative Commons Attribution-ShareAlike 4.0 International License.