I used to think I was a visual learner, and then I discovered podcasts. I'm a bit of a podcast junkie, and they are my favourite way to learn and stay current.
I also make some as well.
The Virtual Staffroom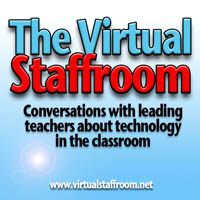 The Virtual Staffroom is a community podcasting project I started way back in 2006. With the tagline of "Conversations with leading teachers about technology in the classroom", the Virtual Staffroom's goal was to have, well, conversations with leading teachers about technology in the classroom. Pretty straightforward really.
The basic premise of the podcast is to capture some of those wonderful off-the-record style conversations that we teachers often have as we sit around the staffroom table at school. Of course, the staffroom table in this case happens to be a call over the internet, the school happens to be the whole world, and these conversations are recorded so they aren't really off the record any more, but you get the idea.
The show was in active production from 2006 to 2012. Although much of the content has obviously aged since it was released, I still think it remains a fascinating library of interviews on a wide range of education technology topics with some of the most amazingly talented educators I've ever met.
When I moved to a new hosting service several years ago, I was devastated to discover that all the original audio recordings were lost in the migration! You can imagine my excitement to discover a backup of these recordings many years later, and they have now all been safely republished to an active podcast feed, and hosted with Anchor.fm. You can access them on the links below.
In 2022, after a 10 year hiatus, I'm aiming to revive the Virtual Staffroom podcast and resume producing more episodes, again with the goal of talking with amazing educators doing amazing things. Stay tuned!
You can find the Virtual Staffroom feed on Anchor, Spotify, Apple Podcasts, Google Podcasts, Castbox and my favourite podcasting service, Pocketcasts.
You can learn more about the history of The Virtual Staffroom podcast here.
The Google Educast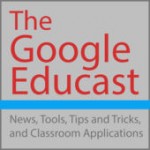 The Google Educast was a weekly video podcast hosted by a talented group of Google Certified Teachers featuring discussions about Google's amazing tools and how they can be applied in your classroom. It was always a fun conversation with lots of great news, tips and teaching ideas. And as you can imagine, when you're dealing with Google stuff there is always lots to talk about!
We used Google+ Hangouts to record the show and we were one of the first podcasts to get access to Google+'s Hangouts on Air technology.  As we recorded the show we also streamed it out to a live audience, as well as capturing the whole thing to YouTube and Google+ for later playback and archiving on our website.