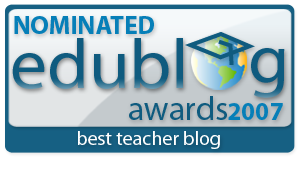 Wow…  I looked in my email today and there was a note saying that Betchablog has been nominated for a 2007 Edublog Award in the category of Best Teacher Blog. I think there are probably a whole lot of teacher blogs that are a whole lot better than anything I could do, but I've still had a big smile on my face all afternoon!
Of course, you can't take yourself too seriously (especially with something as potentially vacuous as your own blog!) but it certainly is a very nice feeling to be at least nominated for an Edublog Award.  As I've said several times, the real reason I write this blog is for myself as a way to "think out loud", so to think that someone else would have taken the trouble to nominate it to even be considered is very humbling, especially when I look at the impressive company I'm sharing the list with! Thanks whoever did it!
And just to top it off, it seems that the Virtual Staffroom Podcast has been nominated for Best Educational Use of Audio.
It's a nice way to start my week.  Remember, vote early, vote often!!  🙂
Nominated for an Edublog Award! by Chris Betcher is licensed under a Creative Commons Attribution-ShareAlike 4.0 International License.