Over the past couple of weeks, I had the great privilege of visiting Pakistan, and working with over 120 teachers across Islamabad, Lahore and Karachi. Like a number of other countries across the Asia Pacific region, Pakistan is making changes to their education systems, with an increasing move to educational digitisation happening in the aftermath of the Covid pandemic. Schools that were thrown suddenly into using digital tools are now starting to rethink what this all means for education moving forward. Google is playing a significant role in this shift too, with Chromebooks and Workspace forming an important part of this new digital landscape, and working closely with Pakistan and other frontier markets across the region.
After flying into Islamabad via an extended 21 hour stopover in Doha, Qatar, I arrived at the first training venue to meet almost 40 enthusiastic teachers from the Beaconhouse Schools system. I was really impressed not only with their existing knowledge of Workspace, but also their solid understanding of contemporary pedagogical principles. These teachers were hand selected to be part of these workshops, and many of them were instructional coaches and very skilled educators. When working with teachers like this it can sometimes feel a bit intimidating, and at times I wondered if there was really anything of value I could add to the conversation, but I think we managed to find a number of areas where I was able to make a worthwhile contribution.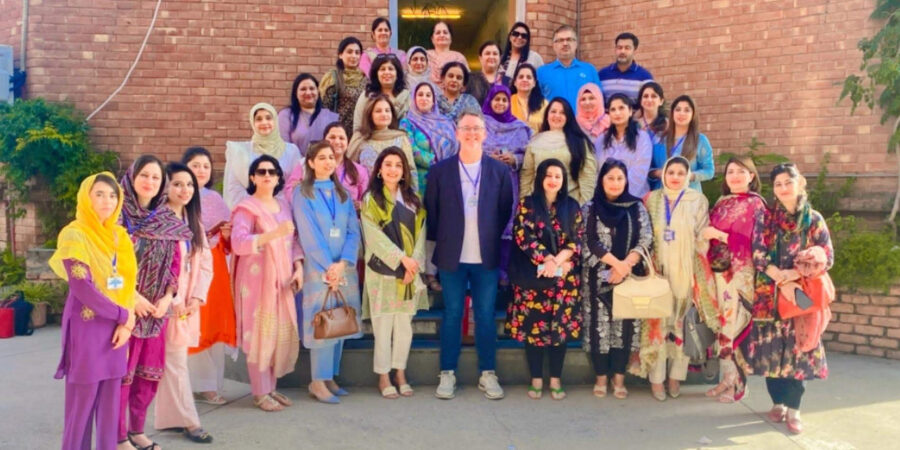 I was taken to dinner in Islamabad by Nishwa and Madiha from the Tech Valley team, where we enjoyed some great food and even better conversations. This was my first trip to a predominantly Muslim country, and I had a lot of questions about life, culture and Islam, which they were keen to answer and provide their perspective. I learned a lot and it was great to see the reality of the Muslim world instead of the ignorant stereotypes that we are often fed by the media.
After the second day of training finished in Islamabad we got in the car and drove the five hours to our next stop, Lahore. The team from Tech Valley did an amazing job of planning the itinerary, and it all ran very smoothly. In Lahore I was taken to dinner by Umar and Nishwa to Haveli Restaurant, overlooking the Walled City of Lahore, including the Badshahi Mosque, the Samadhi of Ranjit Singh, and the Lahore Fort. The food was great, the company was amazing, and the view was something else. Definitely one of those life experiences that gets burned into memory.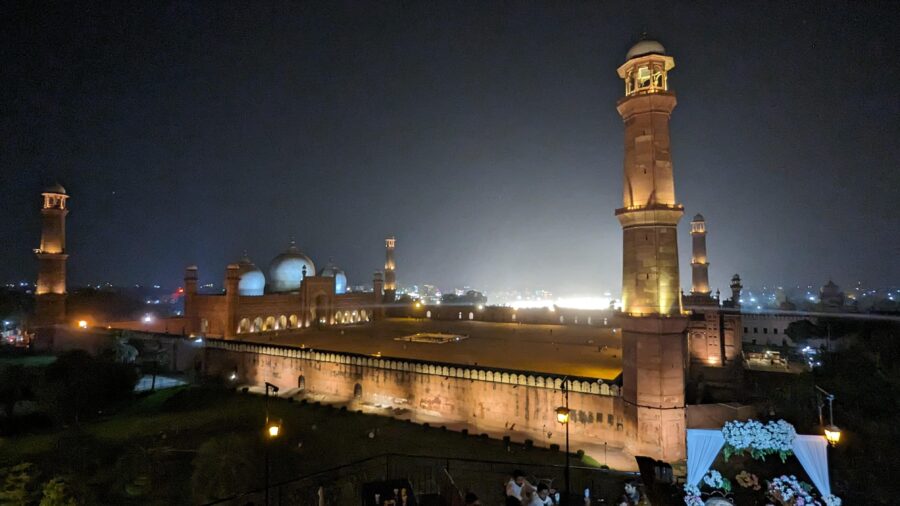 Working with the Lahori teachers the next day was an equally incredible experience, and again their deep understanding of the teaching and learning process made them a joy to work with. I've had the pleasure of working with thousands of teachers around the world over the past decade, and working with these Pakistan educators was a real highlight. We covered the same material as the first couple of days in Islamabad, with a few tweaks here and there based on feedback.
The workshops ran over two days, with the first day dealing mainly with toolset and skillset, and the second day focusing on mindset. I was happy with the structure of the two days, and impressed with the way these educators thoughtfully engaged with the workshop. I felt we had some really meaningful conversations about teaching and learning.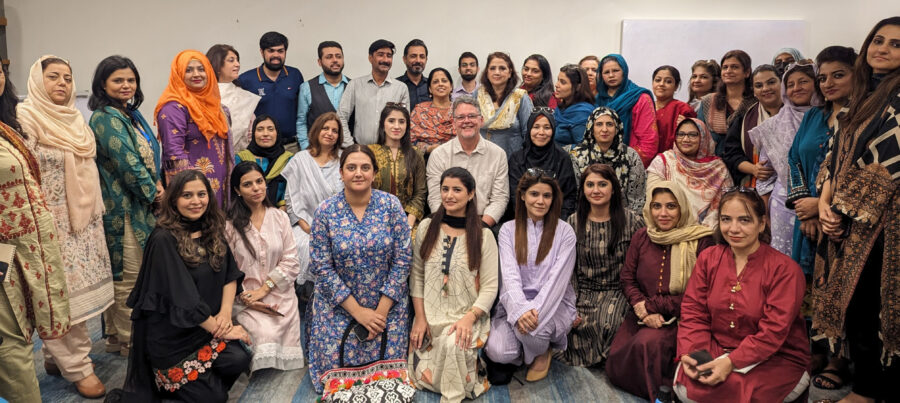 After the second day of workshops in Lahore I was able to have a couple of sightseeing days, and used some of this time to explore Lahore with my driver Saim. He showed me some truly amazing places, including the Shahi Hammam, and another visit to the Lahore Fort. The Fort is definitely worth a visit, and especially to see places like the Alamigiri Gate, the Picture Wall, the Sheesh Mahal (Palace of Mirrors) and the Naulakha Pavilion. For someone that had very little knowledge of the Mughal empire, I certainly learned a lot that day. It was the best kind of history lesson.
We finished the day with a drive to the Pakistan/India border. I honestly had no idea what to expect here, but I definitely did not expect what I saw. There are two stadiums on either side of the border, one enormous one for India and a smaller one for Pakistan, which collectively seat about 8000 people. Every afternoon a ceremony is performed where both countries parade, dance and perform in a display of power and taunting each other. It was quite incredible to watch and I'm so pleased I got to see it.
The next day I flew to Karachi for the final stop in my tour of Pakistan, I was met by the local Tech Valley team members, Sobia and Subhan, who were also amazing tour guides. We spent the afternoon visiting many interesting places around Karachi, including Frere Hall, the Mazar el Quaid mausoleum for Mohammed Ali Jinnah, Mohatta Palace, and then to an extraordinary dinner by the Arabian Sea at Kolachi.
I went for a walk near the hotel that morning and got mobbed by some street kids, begging for food as I passed by. It made me sad to see the levels of poverty that still exist in so many parts of the world so I bought a big bag of food to give them on my return walk. I know it seems tokenistic but I wanted to do something for these kids. As they laughed and acted up in front of my camera it really did strike me just how much children are children, anywhere in the world, in whatever conditions they find themselves. That innocence is so beautiful.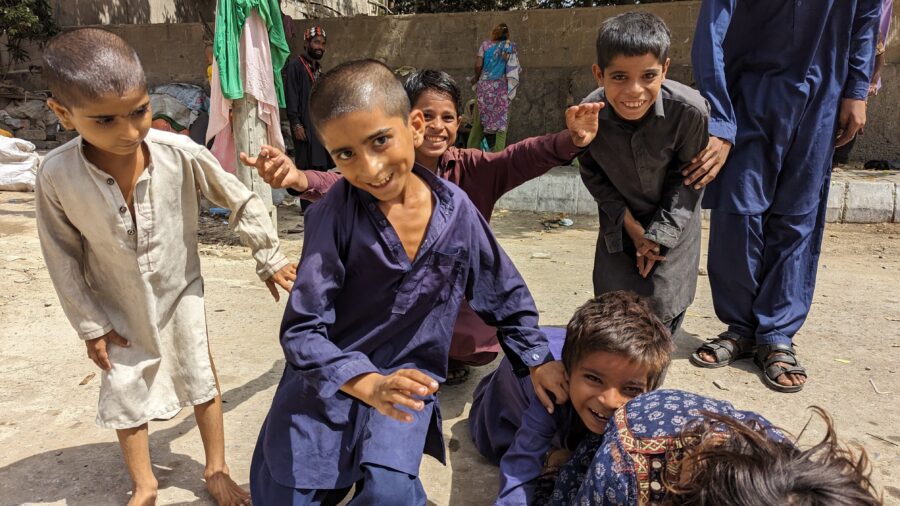 The final workshop in Karachi went well, and I was again struck by the professionalism and dedication of these teachers from Beaconhouse Schools. I again made some minor tweaks to the program based on feedback, and feel confident in saying that the Karachi workshop was also a success. It's amazing what happens when you put talented educators together, provide them with some prompts and provocations, and watch what happens. I am certain that there will be big things coming from the people in these workshops, and I've no doubt they will play a key role in driving Pakistani education forward.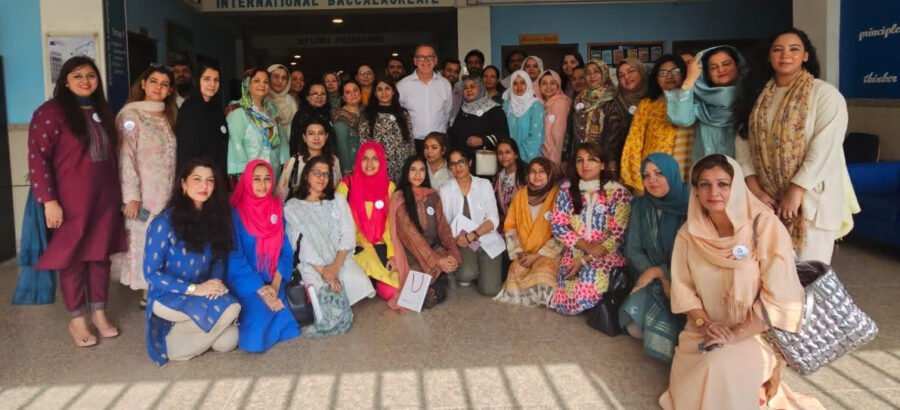 Overall, an amazing experience on many levels. Pakistan was eye-opening for me, and I suspect I will continue to learn and grow as I make further visits back there over the next few months.
If you're interested, you can check out all the photos from the trip here on Google Photos.