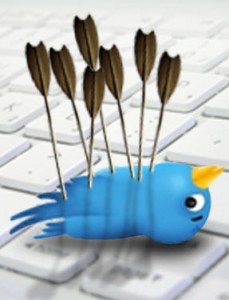 I started on Twitter back in February 2007, joining the service as user number 779,452 using the name @betchaboy. At the time, I thought I was already late to the Twitter party but looking back at it now that the number of users has crossed into the billions, I guess that wasn't the case.
In the time I've been part of Twitter, my use of it has grown considerably. As I write this, my Twitter account follows 3,931 people (mostly other educators with a nice mix of others thrown in just to keep in interesting), and there are 8,496 people following me. With over 11,000 tweets since I joined, Twitter has been a big part of my learning for the last 7 years.
Twitter has been an incredibly valuable tool of connection and learning, and has enabled me to be part of conversations and communities that I never would have discovered otherwise. Twitter has, quite literally, been life and career changing for me.  I've written quite a few blog posts about Twitter over the years, some of which have been quite widely read. You could say I'm a fan of Twitter.
So here's the problem…
Twitter had a security breach earlier this year and numerous passwords were compromised, apparently including mine. Now, when I try to access my account on www.twitter.com, it tells me that I have to change my password.
Fair enough. Click the link and it sends me off to do a password reset using either my username, email address or mobile number. The trouble is, no matter which one I use, it doesn't work. The username and email options are supposed to send me an email so I can reset the password, but no such email arrives (and yes, I've checked the spam folder).  Likewise, requesting a password reset using my mobile number is supposed to send me a text, but no text arrives.  After exhausting all these options, I get a note on the screen that says "If you still don't receive a message in a few minutes, then unfortunately there is nothing else we can do to help you regain access to your account."
Come onTwitter, you can't be serious!
To make things even more bizarre, I can still tweet from that @betchaboy account from devices on which I've never logged out since the password problem arose, and which are set to remember my password. I can tweet from my iPad, from the Chrome web app of Tweetdeck and from Tweetbot on my Macbook, all of which I have never logged out of since the problem.  However, on new devices I can't connect, and I can't connect any app or service that needs to talk to the Twitter API.
I find it really odd that I can tweet from existing devices that remember my  password (presumably the old password) but that I can't log in with any new devices. And the fact that I can't retrieve or reset my password and that I've written to Twitter Support six times now, all with no response, is just beyond frustrating.
I suppose I could set up a new Twitter account and just start again, but with so much invested into my original Twitter account, I really don't want to have to do that. My Twitter username, betchaboy, has been very much part of my online identity and digital footprint and I really don't fancy losing it. And of course, it takes time to develop a large network on Twitter so I definitely don't want to have to start that process over again if I can avoid it.
Twitter, please, can you help me sort this out? I don't know why the normal reset processes are not working for me. I don't understand why I can't get anyone to respond to a support request made through the proper channels. I'm super frustrated by this whole thing, but I really want to get it sorted out.
If you know someone at Twitter, could you pass this post on to them?  If you have any suggestions, could you let me know. I just want to get it resolved and move on.