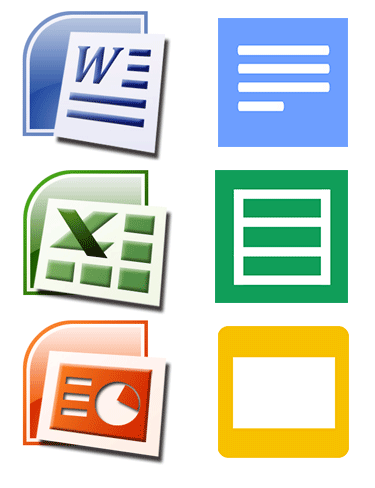 Like many schools around the world, our school has used the Microsoft Office trio of Word, Excel and PowerPoint for many years. Most of us know Word, Excel and PowerPoint well enough for our daily tasks. Although some of us might be willing to admit we probably don't use it to its full capacity, we've been using it for so long that we don't stop to think much about what, if any, alternatives might be out there.
Don't get me wrong, Microsoft Office is an amazing piece of software. Like you, I've grown up with it and watched it evolve over many versions and seen lots of features get added over the years. If you really know what you're doing with Word, PowerPoint or Excel, you can make documents that are quite amazing in their complexity.
And then along comes GoogleDocs, or Drive as we now call it. From humble beginnings as an online word processor called Writely, the Google Drive system has also evolved and changed and grown over the years. Sure, it's not the full-blown productivity monster that power-users of Microsoft Office might be used to, but for the great majority of users it has everything they need. I like to think of it as having 90% of the features needed by 90% of the users.  It has most of the stuff you need, and not a lot of the stuff you don't.  One benefit of this is that it's far simpler to use.
It would be a little foolish to just think in terms of one over the other. Each has benefits and advantages, as well as limitations and drawbacks. But each is incredibly powerful in its own way. Which is why we still provide you with both.
So when do you choose Microsoft office and when do you choose Google Drive?  Here's just a few thoughts on that.
In general, I use Google Docs if I want to…
create documents really quickly and easily. I spend most of my computer-using day in my web browser with Gmail, Calendar and Drive open in tabs. Because I'm already there, I find it hugely convenient to be able to create new documents in just one click.
keep track of the documents I make. I make a LOT of documents each day. The fact that I don't need to think about where and how I save them, and then being able to get back to them really quickly is a huge timesaver for me.
work on a "living document". For documents that grow and evolve over time, that have edits and updates regularly applied to them, there really is no better choice than using Drive. Just think about how many documents you create that are works in progress. Probably most of them.
create a document can be distributed to others without versioning issues. Having a single master version of the document that is always up to date, while still being able to share it with others, is a huge deal!
collaborate on a document with others. Being able to work together on a document with others, in real time, regardless of where they might be, is simply amazing and an absolute game-changer in how we can work together to get things done.
work on more than one machine. I have a couple of computers at work, a couple at home, and a whole lot of tablets and phone devices. Having my work saved in Drive has made it completely irrelevant as to which machine I choose to work on.
I would use Microsoft Word if I wanted to…
Have very specific control over layout and formatting options. Having those options is really nice but I do find that for the majority of the documents I produce I really don't need 287 font choices, garish page borders, complex tables inside tables and so on. But when I do need such things, Word provides them.
Lock down the final copy of a document in order to distribute it to "normal" users. I'd still probably create, edit and evolve the document in Drive, but then I have the option of exporting it out as a Word file at the end if needed.
I've always found that the only way that I can effectively evaluate new technologies is to use them regularly to do real work. So when our school moved to Google Docs over a year ago I figured I would try to move everything I usually did in Microsoft Office over the Google Drive, just to see how feasible it really was to work in that environment. I realised I might have to tweak a few habits and accept a few compromises along the way, but I wanted to see if it was doable.
The answer surprised even me. Not only do I find it perfectly feasible to work primarily in the Drive environment, but I can't actually imagine going back to do it any other way. Seriously. The "compromises" that I thought I'd have to make have been so minimal, while the increased productivity and satisfaction from just being able to get things done faster, easier and more effectively have been enormous.
I won't be removing Microsoft from my computer anytime soon, because Office it's still a kind of defacto standard for documents and I never know when I really might need to use it. But I have to tell you, I haven't needed to even open Microsoft Word now for about 8 months, something that I've found both surprising and liberating.
For many years, Microsoft Office was the right tool for the job, primarily because it was the only tool for the job. And the problem with that is when your only tool is a hammer, everything starts to look like a nail. While Office is certainly still a powerful piece of software, it's often overkill, or worse, it lacks the features that might actually be useful to you.  With Drive, you now have some interesting alternatives. Take the time to evaluate both systems. And next time you reach for a word processor, or a spreadsheet, or a presentation, stop and ask yourself if you're making that choice out of habit or whether you're really reaching for the tool most suited for what you want to achieve.