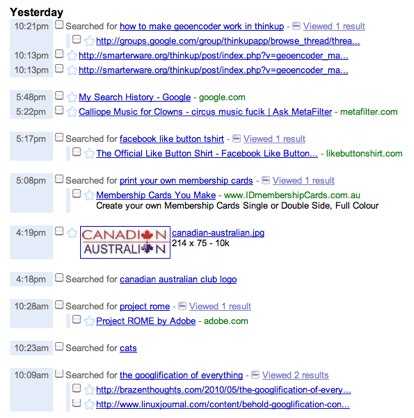 Many people don't realise it, but if you use Google's search services while signed into your Google account (which you already have if you use Gmail) then your entire search history is automatically archived for you, along with statistics about how often you searched, for what, and when. It will track how many times a day you've Googled something, and even displays a little colour coded calendar to show you your overall search patterns. Some people may find the whole thing a little scary, a little Big Brother-ish maybe.
Perhaps it is, although it doesn't actually bother me at all. I find it useful to have a complete history of what I've previously looked for, and there have been a number of times that being able to go back through my search history has been very useful. If there are negative aspects to this sort of tracking, then, for me anyway, the positives have far outweighed them. I pretty sure that I  function far more effectively by being able to turn to a search service to ask questions (and get answers), and I really don't mind that there is a history kept of them. I've nothing to be embarrassed about, and seeing the hundreds of questions I've asked each month really does make me wonder to whom these questions were directed in pre-Google days.
Whether this sort of thing bothers you or not might depend, in part, on what the search history shows. I'm reasonably confident that I could pick a random date from my search history and have it displayed publicly and not worry too much about what it might show.
I'd like to think that the same would apply with my overall online presence, my "digital footprint" as they call it. For the last several years I've been pretty open about sharing a good deal of my personal life in public online places, and although I can only speak for myself, the opportunities that "publicness" has brought into my life have been overwhelmingly positive.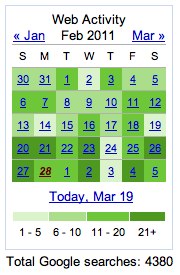 Whether we like it or not, in a digital age we all leave a trail behind us.
Something we constantly remind our students about is the need to leave a positive digital trail behind them. I wrote a post recently about a lesson I had with a Year 6 group. In this lesson I asked them to Google their own name and many of them were surprised that there was already considerable evidence of their existence in the Google database – evidence that they didn't put there and that they were unaware of. As I said to them at the time, the question is not "Will I appear in search results?" but rather "What will the search results say about me?"
While working with a small group of teachers the other day, we did a similar exercise. I'll write more about this in another post, but suffice to say that some of these teachers were shocked when they Googled their own names. One found a fairly nasty comment about herself on RateMyTeachers.com, (a site she was completely unaware of) while others found no evidence of themselves at all in the search results. I'd suggest that both of these outcomes are not desirable. Having something negative turn up about you in a search is clearly not a good thing, but having nothing at all turn up about you is probably just as bad. I know some people who go to great lengths to avoid having an online presence – usually because they want to maintain a sense of privacy – but they need to realise that not turning up in a search result also says a lot. Unfortunately, not having a digital footprint makes a statement about you too.
Like it or not, in an age where "if it's not on Google it may as well not exist", we need to be really mindful about what our digital footprint says about us.
The notion of a personal resumé is quickly being replaced with the digital footprint. Do you have a positive online presence? How "Googleable" are you? Are you on Twitter? Facebook? LinkedIn? Do you participate in online communities? What projects have you been involved in that support your professional practice, and are they visible to the world? If your next employer was to Google you before asking you to come for an interview, would you be proud of what they'd find, or embarrassed?
These are realities we need to teach our students, and I'd suggest we can't do a good job of it unless we  start with ourselves. When someone wants to know a little more about you, you need to be able to proudly say "Just Google me" and know that what they find will be the right stuff.