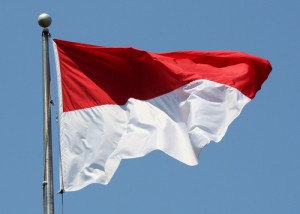 This post is a bit of a call for assistance from any schools in Indonesia. If you could assist we would really appreciate it.
Our year 5 classes are just embarking on a thematic unit of work on Indonesia.  The students are doing research into life in Indonesia, learning about the culture, food, transport, religion and so on. It's being done as part of their HSIE strand.  By the way, HSIE stands for Human Society and it's Environment, for those outside NSW…  Oh, and NSW means New South Wales, for those outside Australia. See the joys of writing for a global audience?
And that's the point really. Getting kids to think outside their own backyard, and realising that when they use certain words or abbreviations that they don't always translate across borders and timezones. Knowing that other people are asleep when you're awake, and that words and phrases you take for granted can be complete mysteries to people outside your own culture is, I think, a really important mindset to develop. It's one of the reasons I'd love to see more and more projects include a global, collaborative element.
If we're going to learn about Indonesia – a country that is one of Australia's closest neighbours and yet so very culturally different – I'm really keen to connect our students with other students who actually live there.  I know it can be tricky to arrange global collaborations, especially where language can be a barrier and these sorts of "soft learning" projects are not always valued by others as much as they are by me.  So I'm trying to come up with something that is relatively "low impact" to potential Indonesian partners. I'm looking for something whereby we can encourage them to be involved, while at the same time not becoming onerous and overcommitted. It's got to be something where the partner schools can contribute at a level they feel comfortable with.
To that end, here's what I'd like to suggest (or rather, request)…
I'm going to get our three classes of Year 5 students to work in teams to build three websites about Indonesia, one per class.  Our students will be put into pairs and each pair will work on creating a section on the website about one aspect of Indonesian life.  We will be using Google Sites to build it.
Ideally what I'd like is to establish a handful of Indonesian schools to act as "consultants" to us as we build these websites. We'd invite comments and feedback about the pages we make, perhaps letting us know if we were somehow missing the point on something, getting our facts wrong, or just not quite understanding the spirit or nuances of the Indonesian culture. It would be pretty cool if one of our students who might be learning about, say, Indonesian food, could, instead of just finding an image using Google Images, be sent a photo from an Indonesian buddy showing what they had for dinner last night.  That sort of thing would be just perfect!
I've already managed to enlist one such partner teacher in Endang Palupi, an ESL teacher at a school district in Pekalongan. We have arranged a series of Skype calls between her students (who are keen to practice and extend their use of English) and our students (who are keen to meet Indonesian students and learn more about life there.) On that level, it's win-win. Endang's students will also try to provide us with feedback and some level of consultation as we build our websites.
In an effort to not place too much expectation on any single teacher or school, I'm also looking for a few other Indonesian partners who might be willing to contribute to this project. I'd like to think that it will be a two way street, and that they will benefit from working with us as much as we hope to benefit from working with them.  Like I said, it's just a nice easy project that would be based around getting some "consulting" and advice from them as we build our websites. This consulting can be simple and easy (maybe just take a look at our websites occasionally and drop us some feedback on how we're doing), or become more involved (Skype calls, travel buddies, co-collaboration on the sites, etc)  It's really up to the other school as to how much and what they'd like to contribute.
So, Indonesian schools, how about about it… can you help me out?  We've just started working on this project and we'd expect it t run for the next 7-8 weeks. We'd love to get you involved!
If you can help us, or know someone who can, please leave me a note in the comments below.
Photo Credit: CC BY-ND http://www.flickr.com/photos/mr_t_in_dc/2503224501/ 

Looking for Indonesian Partners by Chris Betcher is licensed under a Creative Commons Attribution-ShareAlike 4.0 International License.