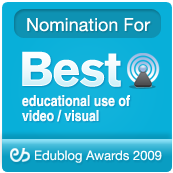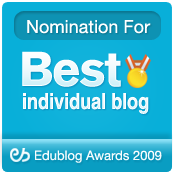 Yes, it's that time of year again! The annual Edublog Awards are in full swing, and after a few weeks of people making nominations for various blogs, tweets, wikis and social networks across a really broad range of categories, I'm extremely honoured to have had not one, but two of my online projects – Betchablog and The Virtual Staffroom – mentioned for an "Eddie" this year.
These awards (which are great to be considered for, but hopefully not to be taken too seriously!) aim to highlight and recognise some of the great work taking place in the online educational sphere.  Education is certainly one sector that seems to have really embraced the use of blogging as a tool for reflection, sharing, helping others and generally assisting teachers and students to "find their voice".  I know that I've personally found the act of blogging to be critical in helping me "think out loud", processing ideas in a public space where they can be exposed to the scrutiny, support and suggestions of others.  Having a blog has certainly helped me find my own voice and given me a platform from which I can share easily and freely with the world, whether it's some resource I've found, a tutorial I've made, or just some vague idea that's been floating around in my head looking for a place to be expressed.  I blog for myself first and foremost, and the idea that someone else might also find some value in any of it is just the icing on the cake, although it is certainly very tasty icing! I really do value the sense of community that my blog has created for me and although I say that I write just for myself, I must admit that it would be quite a hollow experience without the wonderful support of those who read, comment and engage with me.
To those that nominated Betchablog or The Virtual Staffroom this year, thank you!  To those that might consider casting a vote for either of them, thank you to you too.  But mostly thank you to everyone who reads (and subscribes) to some of these things I've been doing online over the last few years… you are the ones who make it all worthwhile for me.
Vote Early, Vote Often! by Chris Betcher is licensed under a Creative Commons Attribution-ShareAlike 4.0 International License.